Entering new markets and scaling an eCommerce business is just not possible without automation.
One can try to perform all product data tasks manually just to see the enormous amount of errors and the need to increase the headcount every quarter.
Freeing your team up from the tasks software can do, can give you more time on actual sales and marketing.
That's what product information management (PIM) does for retailers, manufacturers, and wholesalers.
It allows the management of product data in a centralized way and sets up new sales channels. Meaning, your team can do all product updates using just one platform.
Whether you want to know how to implement a product information management system for the first time or look to switch to a new PIM solution, here are 3 best practices for a successful PIM implementation.


1. Define the project scope
Ideally, during the implementation phase, your team should already know what pressing problems a PIM software can solve.
If you are only at the beginning of your journey with product data management, check the article on 5 questions you should ask a PIM provider on a demo.
The onboarding process should begin with the creation of a data model. The data model includes and clearly defines the product data, its attributes, and the desired catalog structure.
The visual representation of your product data is extremely helpful to give you a complete picture of all information that is relevant to your business.
Depending on your internal resources, you may delegate this task to your IT department.
Without a doubt, the technical department of your PIM system will be able to assist you in creating a data model following the best practices of data modeling and catalog structure.
The integration process towards ERP and customer-facing applications is essential.
Bluestone PIM, for instance, can assist in this work if required. In the initial project phase, it is required to have an overview of the system architecture of which PIM should be a part.
All the specifications of the data model and business structure can and even should be discussed before signing the contract to ensure the PIM provider meets your business goals.


2. Assign the PIM project
Successful implementation requires effort from your end. To make sure all your business needs are well-communicated, it's crucial to establish a team working with PIM within your company.
Depending on the project complexity, IT, and master data competence, you need to assign the following roles to your team members: Project Owner(s), Integration/System Architect(s), Rollout/Deployment Manager(s), Super User(s), Brand Manager(s).
If applicable, access to the company's tech partner(s) can be beneficial.
As a user, you will be put in contact with the PIM Implementation Manager, who is responsible for the project architect to ensure successful onboarding.
While a PIM provider can help with a smooth transition to the system, it is your own team who knows your company's processes at the fingertips.
So when it comes to sales channels, product attributes, and digital asset management challenges it is crucial to keep your finger on the pulse.
Assigning roles to your team members will be possible only after setting priorities, and discussing the project scope and desired outcomes in the initial stages.


3. Test the PIM software
Onboarding can take anywhere from two to five months, depending on the complexity of the PIM project.
For example, the number of channels that should be connected can influence the timeline of the project.
The lack of an architecture overview or incomplete product descriptions can also extend the deadline.
However, when implementing the PIM system and connecting different sales channels, you can use a selection of tools in PIM to analyze and improve your product data, which will definitely make your team's work easier.
Once completed, the PIM team in your company will have access to the test environment.
At this stage, the team can review the completed work and ensure that the data is structured according to the business objectives. The testing schedule depends solely on your team.
It is important to note that the PIM vendor will probably conduct training sessions with your team in the initial phase so that your team members can go into the testing environment with comprehensive knowledge.
During the testing phase, the PIM project manager should address any questions your team has about catalog management, data integration, bulk editing tools, and customer experience.
If there are many users in your organization, you need to communicate this with the PIM project manager and request documentation for the PIM platform to be able to run internal training for new team members.


What implementation with Bluestone PIM will be like
Bluestone PIM has dedicated project managers and project architects to ensure that customers get the right technical training to execute all processes with ease and get rid of repetitive tasks.
Our MACH architecture (Microservices-based, API-first, Cloud native, Headless) enables great agility in the fast-paced eCommerce industry.
Once implemented, you can scale with demand by adding channel-specific attributes and following best practices.
Here you can find the Bluestone PIM general implementation plan:




Example of Bluestone PIM's implementation plan to onboard a client


7-step onboarding plan of Bluestone PIM
Different customers may have different PIM needs, such as additional Bluestone PIM applications and complete ERP/CMS integrations.
During the sales process, these will be identified and included in the customer onboarding plan as needed.
The list below has the general project activities highlighted in the onboarding plan you see in the graph above.
Discovery phase: specification, workshops with needs, and solution analysis
Setup and configuration of solution with users, roles, structure, and attribute heritage
Assistance with data modeling
Assistance with data capture
Assistance with integrations
Define and integrate business rules
Project management and organization


The Bottom Line
You can find many enterprise systems to help you create error-free product information, improve team collaboration and product management, optimize the customer journey, and strengthen customer loyalty.
To make informed buying decisions, it is advisable to review not only the technical capabilities but also the onboarding plans of a few PIM solutions.
Excellent communication with PIM stakeholders and clear guidelines will ensure that the project goes well.
Get in touch with our team to learn more about how Bluestone PIM can help you implement a MACH-based PIM solution and take advantage of its technical magic.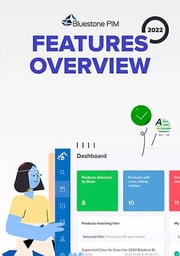 DOWNLOAD FREE E-BOOK
Bluestone PIM Features Overview 2022
Check the unique features of the first MACH-based PIM.